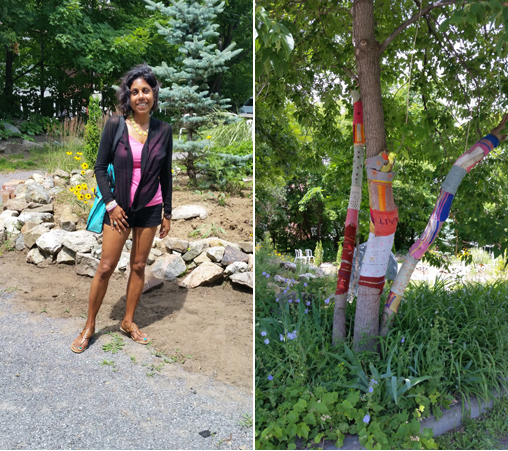 Recently I visited the La Fab Boutique where my fine art cards are sold. A 10-minute drive from downtown Ottawa in scenic Chelsea, Quebec, it's a jewel of a spot nestled within the majestic Gatineau Hills. The area is known for its cozy cafés, art galleries, craft stores and bakeries. It's also the home of the ever-popular Nordik Spa. I love the gallery's garden which incorporates art and found objects into its landscaping.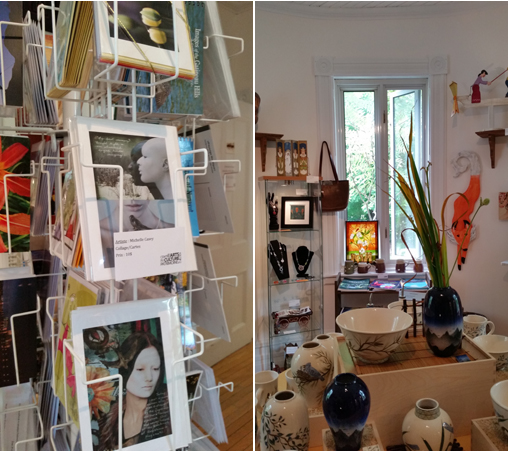 I was pleased to discover that my cards are selling well in the boutique and hope to have some new designs to submit to the store in the near future*. The store sells the work of many local artists from Ontario and Quebec. I always have a hard time visiting it without buying something… for me, purchasing a small piece from an artist whose work I love is always a must.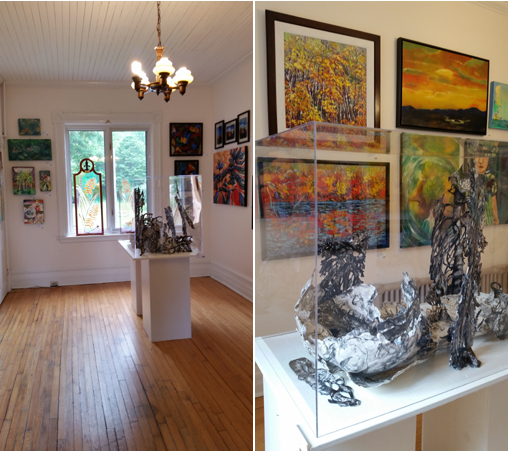 A former church rectory, which has been lovingly restored, La Fab's Gallery showcases the work of established and emerging artists. The photo (above, right) features the ceramic collage sculpture of Lisa Creskey (see glass case). For my review of her work see: Lisa Creskey: Telling Stories with Clay.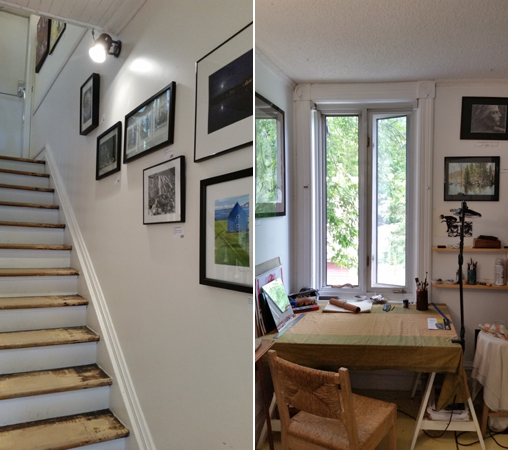 Upstairs, the gallery rents studios to several artists (i.e painters, print makers, mixed media artists, etc.). I love seeing artists' work in progress. I especially get a thrill out of walking through their studios because it's a lot like travelling through their minds!
I hope you enjoyed this brief tour of La Fab (also known as the Chelsea Arts, Culture and Heritage Centre). If you're ever planning a weekend outing here, La Fab's exceptionally friendly staff will make you feel at home. The Centre also hosts outdoor fundraisers, musical shows and art workshops for adults and children.
* Note: Collage Your World cards sell for $10 each; printed on high quality fine art paper, they're perfect for framing. Cards sold at La Fab include: "Princess in the Making", "First Memory", "Fukushima, Hiroshima, Nagasaki", "The Sound of Silence", "Becoming", and "The Edge of Nowhere". Don't hesitate to let me know if there are any other collage prints of mine you'd like to see in card format.