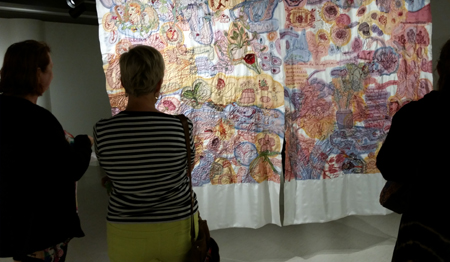 What do gardens, anatomical figures and monsters all have in common? Among other motifs, they all happily inhabit the fibres of Anna Torma's embroidered tapestries. Reminiscent of a frenzied personal graffiti, the Hungarian-born artist's dynamically composed pieces never fail to completely captivate viewers' imaginations. Influenced by the work of artists: Jean-Michel Basquiat, Cy Twombly and Kiki Smith, Torma's tapestries are a synthesis of the everyday rituals of sewing and embroidery she learned as a child from her mother and grandmothers. Along with painting, they form the basis of hundreds of personal narratives which literally explode and even dance upon the layers of her silk and organza tapestries. Comparing herself to a composer, she tells me she "orchestrates" her life experiences and knowledge into the coloured threads of her art which lays bare fantastic, whimsical, primitive-style imagery and diary-like stream-of-conscious thought.
Last year I had the opportunity to view a small exhibition of Torma's pieces at the Lafrenière and Pai Gallery (Ottawa) for the first time*. I was amazed at their large scale and intricate designs. I was also very impressed that they were sewn and embroidered so that they could be viewed from both sides. After seeing the show, I was excited to take in a much larger exhibition of hers, Bagatelles, which was held in July (2014) at the Karsh-Masson Gallery (Ottawa). In conjunction with the exhibition, Torma gave a talk in which she animatedly relayed her creative process. Many were surprised to learn that, like painting or sculpture, embroidery too was considered a fine art/craft. After seeing the exhibition I, for one, am definitely adding embroidery to my wish list of skills!
Bagatelles: Highlights & Details of Anna Torma's Tapestries
The term "Bagatelles" refers to the domestic rituals of women: embroidery, sewing and gardening, etc..
Layering thread, paint, fabric and text, Torma's work is a kindred spirit of collage and mixed media art. Having internalized sewing at young age, it's fascinating to her hear speak of embroidery as a basic skill like "writing.
Shunning a cohesive narrative (story) her dynamic compositions act as memory triggers inviting viewers to become active members in making sense of her work.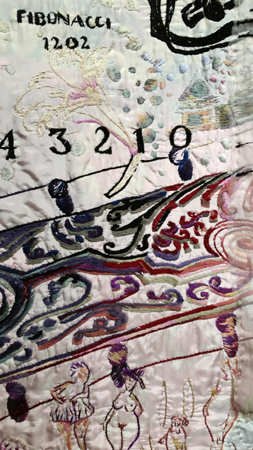 Inspired by a trip to Paris where she visited several gardens, this motif crops up again and again in her work. Pictured here is detail of Eden, the garden of biblical fame.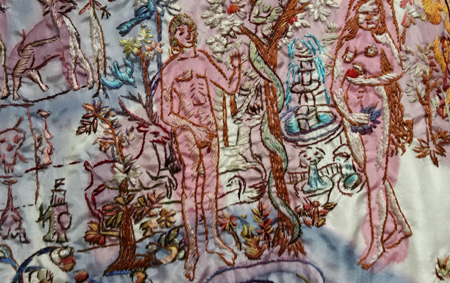 Drawings of dinosaurs, monsters and other scary creatures that lurk in the recesses of her tapestries are made by her children.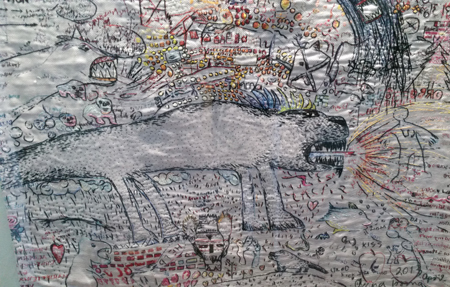 The human body is another striking theme in Torma's art. Using anatomical drawings from nurses' reference charts, she transforms these cold, rational scientific drawings into ones charged with emotion.  It's interesting to note she had once dreamed of joining the medical profession.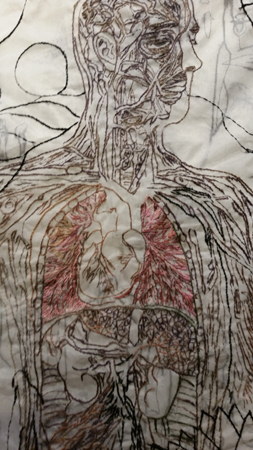 For me as well as the local critics and viewers (see review below), Bagatelles was a tour de force. I went back to visit it three times because it gave me so much to contemplate and revel in. Many thanks to Anna Torma for giving me permission to take and use photos of her show for this entry. Also, thanks to my good friend fibre artist Krystyna Sadej for introducing me to Torma's work.
Other Related Links:
Anna Torma: Bagatelles: City of Ottawa, Karsh-Masson Gallery
Anna Torma's Bagatelles is a triumph in silk by Peter Simpson
Kiki Smith Sewing and Drawing
Bayeux Tapestry