Each year, I turn to numerous books to inspire my collage and mixed media work. While a handful prove extremely useful, the rest end up being added to my library of cool books I never finish reading! As I begin to use my cell phone camera on a daily basis, taking it with me wherever I go, I find that life provides me with free design examples everywhere; ones I can draw on for my art. As an avid walker and public transit user, I encounter these visual gems on my excursions throughout the city and in moments of everyday life: at home; on the sidewalk; in the sky; at the mall or on a bus. For me they're like finding hidden treasure. Although I don't always seek them out, they always pop up, even when I'm just standing in my bedroom figuring out what to wear… I'll see a pile of stuff on my dressing table and suddenly have an aha moment! Here are some examples: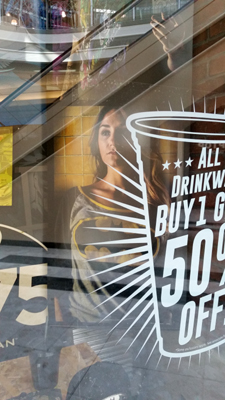 As discussed in my previous blogs, store windows offer amazing compositional insights. Their transparent reflections allow us to see a variety of layers of reality: sky, architecture, nature, our own reflection, etc. all fused together to create stunning seamless effects. When it comes to collaging with your camera you can use your photos of reflections straight or reproduce similar effects by printing one or more images on transparencies and layering them on top of each other on your piece. In this photo I was struck by the image of a Bat Girl poster in a display window which was located behind an ad (on the glass) for coffee. The light rays (lines) emanating from the cup lent the super heroine a saintly air – for centuries these light rays have been used to indicate a kind of heavenly or supernatural light in art. (See Gian Lorenzo Bernini's sculptural installation: "Ecstasy of Saint Theresa" for a stunning use of this). Jerry Uelsmann's is one of the masters of mixing realties through his collage-like photography (photomontage); see Legends Online for more on his work.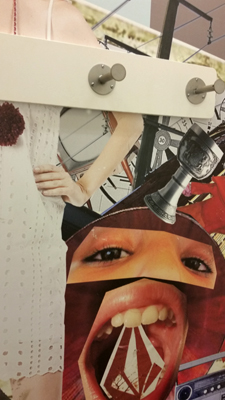 Imagine my surprise when I entered a change room and discovered this life-sized Dada-inspired collage! The 1920's Dada art movement jump-started collaging as a popular medium in the twentieth century. The collage here reminds me of a popular Raoul Hausmann piece: "ABCD". I love the in-your-face exaggerated scale of the eyes and teeth of this headless character and the way the diamond's clenched between its teeth.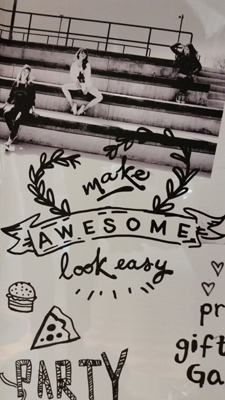 Cruising past a funky teen clothing store, I was excited to see fashion photos and a mix of text styles integrated on a magnetic board. I like the fun, casual, feel of the playful writing and how it contrasts with the more polished fashion images beside it.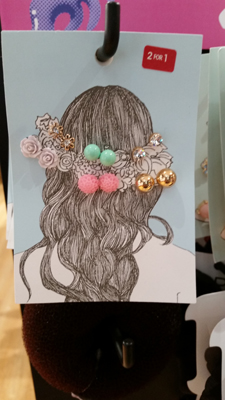 A stroll through my favourite fashion accessory store provided me with this brilliant idea for showcasing jewellery. I love the mixed media feel pinning the earrings onto a drawing has here; it ignites all kinds of card-making and journaling possibilities for me.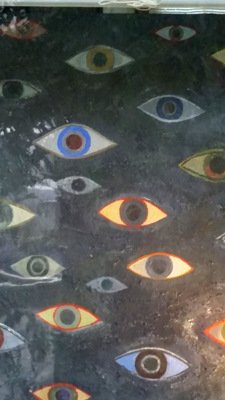 I stumbled upon what looked like a kind of funky Egyptian wall mural in our downtown market area. This large wooden board painted with hundreds of eyes rests in someone's living room window! I love the way it anthropomorphizes the house and at the same time acts as a kind of ancient hieroglyphic warning to the onlooker that they too are being watched!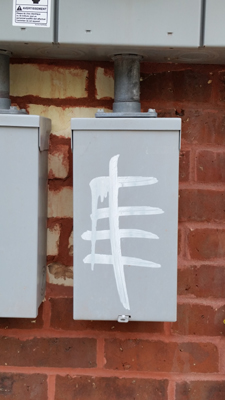 I love to walk through Ottawa's Chinatown; it's covered with a wide variety of cool graffiti and murals. This one I discovered shortly after taking a Shodoo workshop with artist Johanne Leveille; Shodoo is the practice of painting Japanese* words.  Unfamiliar with Asian text and encountering something akin to it on this electrical box intrigued me. I wonder, Johanne, do you know if this an actual character and, if yes, what it means?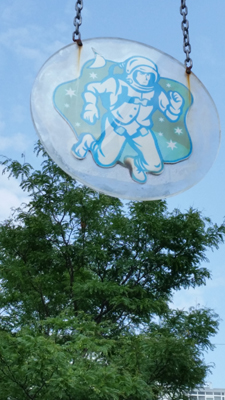 This ad of an astronaut seems to be custom designed for its location floating among the trees! It adds a surreal and comical air to the photo with its allusions to the real and cartoon worlds. This creative strategy of mixing realties is what makes collaging and mixed media so exceptional. Artist/illustrator Claudine Hellmuth uses it effectively in her collages; see The Sister Project for examples of her work.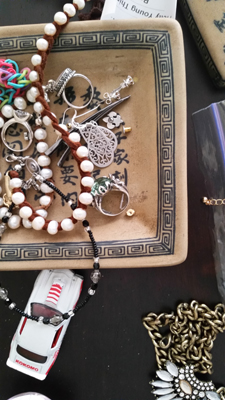 As jewellery and other found objects pile up on my dresser, things get as messy and as beautiful they do on my collage table! It takes me a while to put things away but as they start to pile up I begin to see interesting patterns emerge; ones I can use for future compositional layouts. Here, I like the way the line of beaded jewellery and pearls connects with the race car or the curve of the tear-like shapes found on the vintage necklace (lower right corner).
I hope these examples will motivate your collage/mixed media making. Has everyday life inspired your art making? If so, I'd love to hear your stories and see your pieces.
* Note: As well as Japan, Shodoo is practiced in China and Korea.
Other Related Links:
CYW: Collaging With Your Camera
CYW: Tales from the Observer: Art, Display & Installation
MoMA Learning: Dada