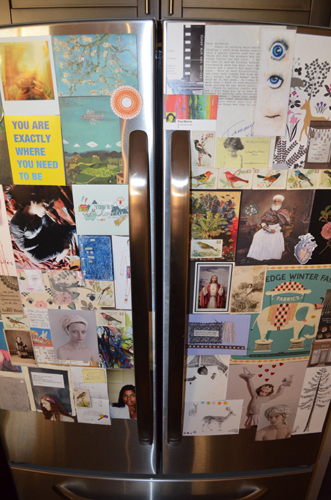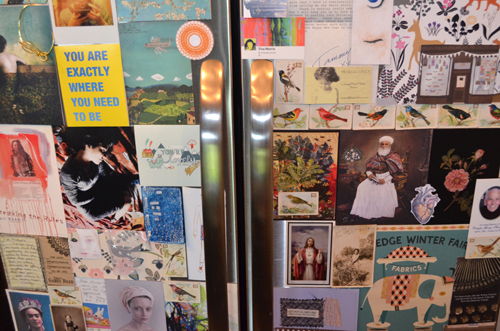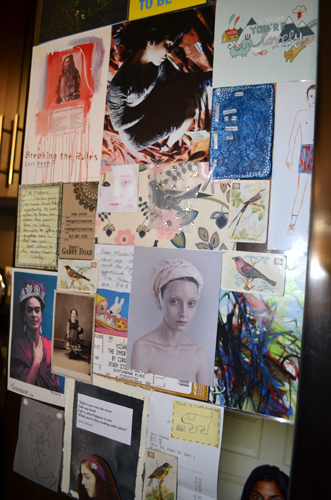 While reviewing photos of our old house this month, my heart warmed at the sight of our old kitchen refrigerator door covered with paper paraphernalia. Perhaps you have a similar ritual of posting things to your refrigerator door. In meditating its collage-like surface which offered brief glimpses of my life, I felt it resembled a window into my soul. Art work from nieces and nephews; postcards and birthday cards from friends; thank you, sticky notes and bits of ribbon, string and feathers spirited from gifts gave it a life of its own.
I've always loved the idea of refrigerator art. Although you may not see it in a gallery, it's a form of everyday art.  Its counterparts include any kind of surface you can stick things to: a bulletin Board (cork and magnetized) or a wall in your home – I've seen a number of these on Pinterest as well. For those of you who don't feel you're an artist at heart, it's one of the easiest ways to collage. Push pins, magnets, tape and sticky tack are all you need to "glue" your pieces without any mess. It's also a versatile way to work allowing for easy removal, placement and updating of materials should you decide to change things around. This aspect makes it ephemeral and organic; with the addition of new mementos, it's constantly shifting its shape as time goes by.
When people tell me that that they're intimidated about collaging, I recommend this form to begin with; it requires little time and can be spread over a long period. If you have a busy schedule, consider building your composition on a daily basis by adding two to four images at a time. While deciding what items to put up*, I suggest choosing ones that are close to your heart: colours, textures/patterns and words that have personal meaning to you.  Not knowing how your board will be transformed each day will add some intrigue into your life and all it requires is less than 10 to 15 minutes of your time. You don't need a rhyme or reason for choosing or placing pieces a certain way; go with the flow and trust your gut feeling. Using this method, your piece will always be fresh, a work in progress… as ever-changing as life itself.
If you share my passion for refrigerator art, I'd love to hear your thoughts on the subject. Pictured above, my new condo refrigerator doors.
*Note: I use: Favourite quotes/words/expressions, recipes, artwork, sticky notes, postcards, greeting cards, friend's business cards, invitations and notices of events, coupons, etc..
Bonus Tip: The refrigerator door is a great spot to create a vision board on.
PS Thanks to a dear friend TB for inspiring today's blog title and topic.
Other Related Links:
The Call of the Vision Board
The Fabric Patterns of Everyday Life (Part II)
The Birth of Collage Your World